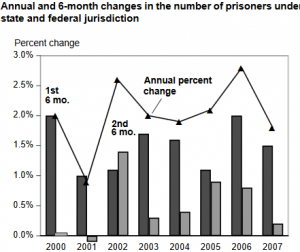 This reportpresents data from the National Prisoner Statistics program. It describes the change in the prison population during 2007 and the characteristics of the 1,598,316 prisoners under state or federal jurisdiction on December 31, 2007. Additionally, it provides the imprison-ment rates and age, race, gender distributions for the 1,532,817 prisoners sentenced to more than one year. It quantifies changes in prison admissions and releases, inmates held in custody, prison capacity, and components of the total incarcerated population.
By Heather C. West and William J. Sabol, Ph.D.BJS Statisticians
source: bjs.gov

Inmate Release Information Search
Our records contain information about federal inmates released 2007 year.
This database contains public record information on felony offenders sentenced to the Department of Corrections.
Gathering Inmate Release Date Information
Last Name, First Name, Middle Name, Age, Released Date


Inmate Release Information Search
How To Find An Inmate's Release Date.
#FederalPrisonCamp updates this information regularly, to ensure that it is complete and accurate, however this information can change quickly. Therefore, the information on this site may not reflect the true current location, status, release date, or other information regarding an offender.